The Haze Vaporizer v3 is an award winning dual bowl vaporizer that packs a punch in a small package.
Designed for portability and discreet carrying, the Haze is sized and shaped like a traditional flask, making it easy to fit in the palm of your hand and to slip into your back pocket like a wallet. With the mouthpiece down, the Haze measures approximately 3 inches by 3 inches by 1 inch.
The Haze is a 3-in-1 vaporizer that can vaporize died herb, oils and concentrates like shatter.
It has a revolutionary patented heating system which consists of two ovens (bowls) that heat up separately. Two screens are included – one for conductive heating and the other for convection.
The Haze also provides "cans" which allows you to vaporize any combination of dry herbs, concentrates or oils. The can also serve as storage of plant materials making your stash immediately available for vaporizing.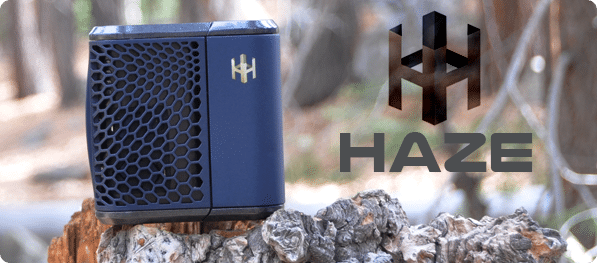 Revolutionary Heat Exchange System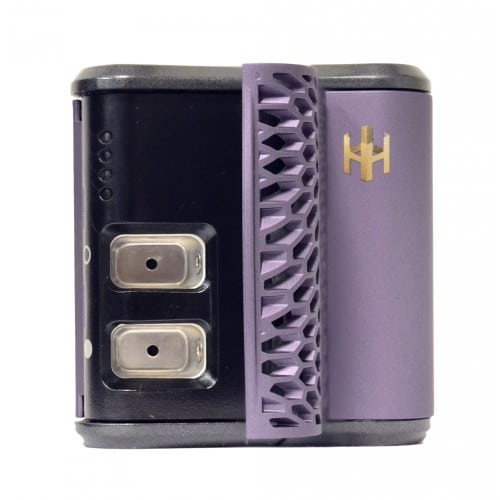 The Haze's patented heat exchange system works with stainless steel chambers and a stainless steel vapor path. The heat exchange system works much like a car's radiator by pulling in cool air from outside the unit. This cools the exiting vapor while simultaneously pre heating the air entering the chamber.
Conduction is heat transfer through solid objects, while convection is heat transfer through liquid or gasses. Source: ask.com
The average heat up time is between 50-60 seconds while maintaining a consistent temperature regardless of draw strength. The Haze also features a long-lasting external lithium ion battery for prolonged vaporizer function. These long sessions can be attributed to more than just a long battery life; it is also due to the use of the dual bowl technology, heat exchange system, and confined vaporization.
The Haze vaporizer consists of these features:
LED temperature setting display
Heat on demand through advanced technology
Only dual bowl vaporizer on the market.
Can use dry herbs, concentrates, and oils interchangeably
Strong, Long-Lasting external Lithium Ion battery
Extremely light weight and discreet
4 different temperature settings (250, 350, 375, 410)
Patented heat-exchange mechanism, for cool vapor output
10 year warranty
Compatible with herbs, wax, and e-liquids
Rechargeable/removable lithium ion battery
Includes both stainless steel and glass mouthpieces
Ability to interchangeably vaporize 2 materials
The Haze Vaporizer comes with these components:
Haze vaporize unit
glass stem
stainless steel stem
2x stainless steel cans with silicone lids
2x conduction screens
2x convection screens
2x 2600mAh 18650 protected batteries
double sided cleaning brush.
tweezers with a nice herb loading shovel on the end
wall charger with charging lights and USB output
instructional DVD
owners manual
The Haze vaporizer is built with the highest quality material and is extremely user-friendly. Users agree that keeping the vaporizers clean without resin gumming up the mouthpiece is a feature other portable vaporizers cannot claim.
10-Year Warranty
Manufactured in the United states by Haze Technologies, the portable Haze v2.5 is a high-quality, powerful and efficient vaporizer which consistently delivers a smooth, tasty and potent vapor.
It's portable design means you can discreetly vape wherever and whenever you want. Backed by a 10-year warranty, you can be assured that the Haze will give you years of vaporizing enjoyment. Value wise, we rate the Haze as the best overall value for a handheld vaporizer.